GURU PADUKA PUJA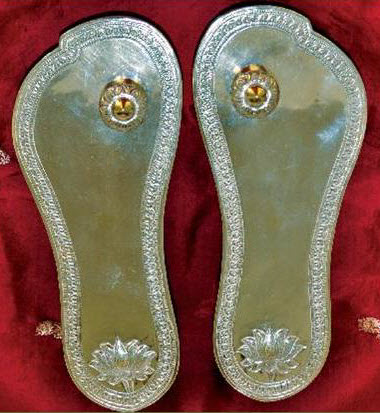 Just as a Shiva Linga represents Siva, a Saligrama represents Vishnu, in the same way, the Padukas (sandals) of the teacher represent to the student not the sandals, but the concept behind. What we are invoking is Brahman, the Lord. But we cannot directly go to Him. We want a symbol.
There is no symbol more sacred than the Padukas of the Teacher. We wash the Padukas and worship them, as though they are the Lord himself. We clean them with love, put sacred ash, adorn with sandal paste and do all that we do in a Puja at the temple; we worship the Padukas as though they are that Siva Linga or a Saligrama, invoking Him, the Ideal.
As an offering to Pujya Gurudev Swami Chinmayananda ji's birth centenary celebrations, we will be performing Guru Paduka Pujas at our Andover center and members' homes.
These Pujas are performed on Friday evenings at 7 PM.
Total Puja time is less than 90 minutes.
Puja preparation
A shrine to put Pujya Gurudev's picture
Flowers for Puja
Fruits for Puja & to distribute as Prasad to devotees attending the ceremony
Milk
Lamps at the altar
Arati lamp and plate
Chandan (Sandalwood powder), Kumkum, Akshata (turmeric rice), Agarbatti, match box etc
Large plate for Paduka Abhishekam (washing Padukas)
Large plate for Padukas during Puja
Two new small cotton towels (to wipe Padukas after Abhishekam)
Guru Dakshina as an offering to Swamiji
Host responsibilities
Schedule /Participate in Guru Paduka Puja.
Invite family & friends
Chinmaya Mission will arrange Pujya Gurudev's picture and Padukas for the Puja.