Manah Shodhanam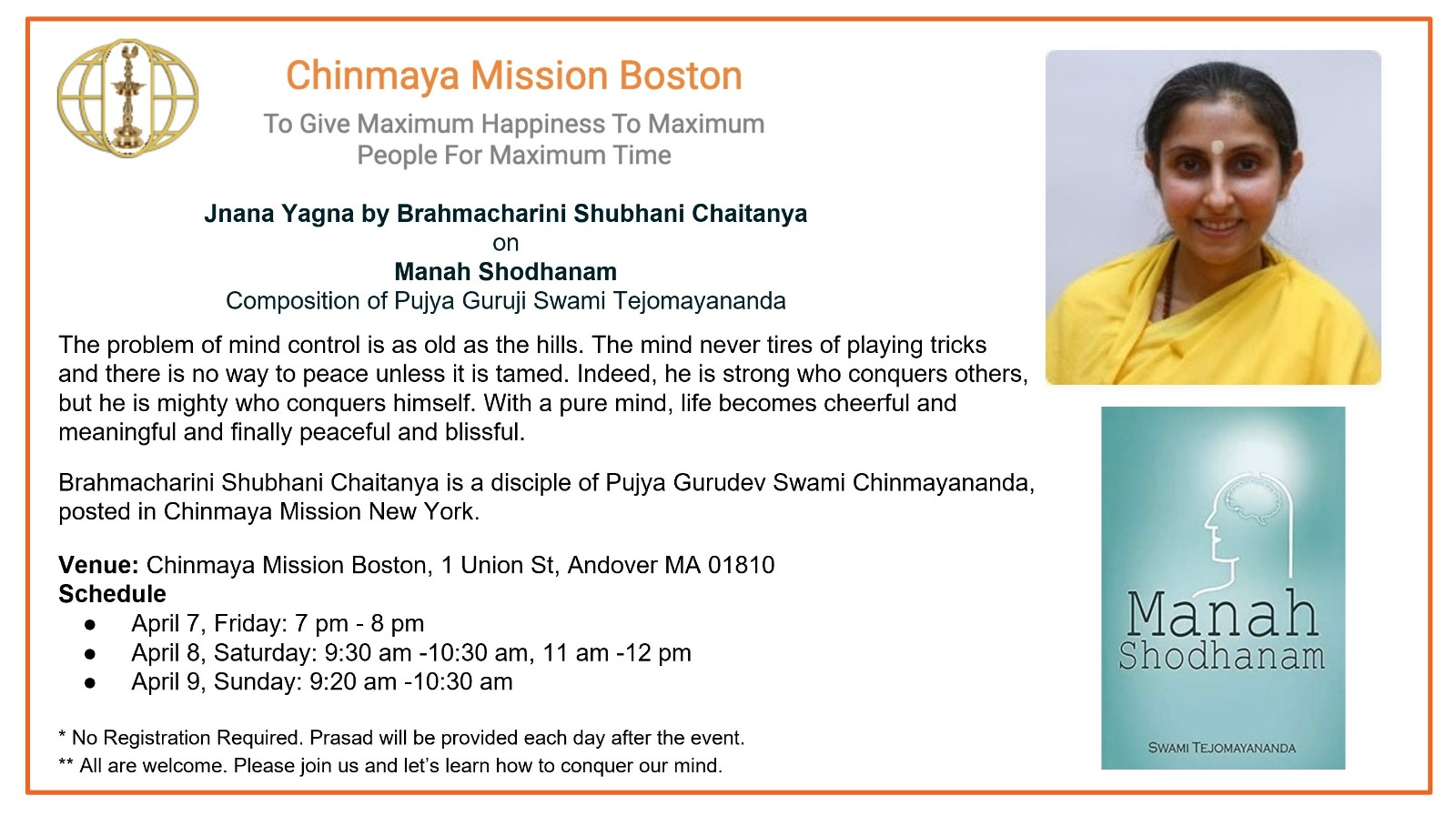 About the Speaker
Brahmacharini Shubhani Chaitanya is a disciple of Pujya Gurudev Swami Chinmayananda. Born in Manila, bred in New York and built in Bharat, she has grown through Chinmaya Mission as a Bala Vihar child, a dynamic CHYK (Chinmaya Yuva Kendra) and now a Brahmacharini posted in Chinmaya Mission New York.
She studied at the Fashion Institute of Technology in New York City where she graduated with a Bachelor's Degree in International Trade and Marketing. After working in the fashion industry for around 7 years, she decided to take a sabbatical to find her true calling. This led her to join YEP – the Youth Empowerment Program where she was involved in writing/editing books, organizing camps, and teaching in schools. She also assisted in the script-writing of Swami Chinmayananda's movie – On a Quest, and later pursued her very own in Sandeepany Sadhanalaya, Mumbai.
She completed the Vedanta course in 2016 where she was initiated as Brahmacharini Shubhani Chaitanya. She brings natural wisdom and compassion to her classes and loves sharing with people the Science of Happiness that is Vedanta. She currently conducts classes on the Bhagavad Gita, Vivekachoodamani, and other Vedantic treatises.
About the Topic
Mana Shodhanam by Swami Tejomayananda – the problem of mind control is as old as the hills. The mind never tires of playing tricks and there is no way to peace unless it is tamed. Indeed he is strong who conquers others, but he is mighty who conquers himself.
Manah Shodhanam is an original Sanskrit composition of Swami Tejomayananda. This text and commentary helps us understand the working of our mind and gives practical solutions of how to tackle it. With a pure mind, life becomes cheerful and meaningful and finally peaceful and blissful.
Venue:
Chinmaya Mission Boston, 1 Union St, Andover MA 01810
Schedule
April 7, Friday 7PM – 8PM
April 8, Saturday 9.30 AM – 10.30 AM, 11AM – 12PM
April 9, Sunday: 9.20 AM – 10.30 AM
No Registration Required. Prasad will be provided each day after the event.