Madurai Chithirai Thiruvizha
A thematic Bharatanatyam production by the PARASHAH group
Artists: Smt. Roja Kannan and Team
Date: April 15
Time: 6:00 pm
Venue: Chinmaya Mission Boston, Andover
Tickets:
Premium: $40 (First 4 rows – Center Section of the Auditorium)
General: $30
Seniors and Students: $25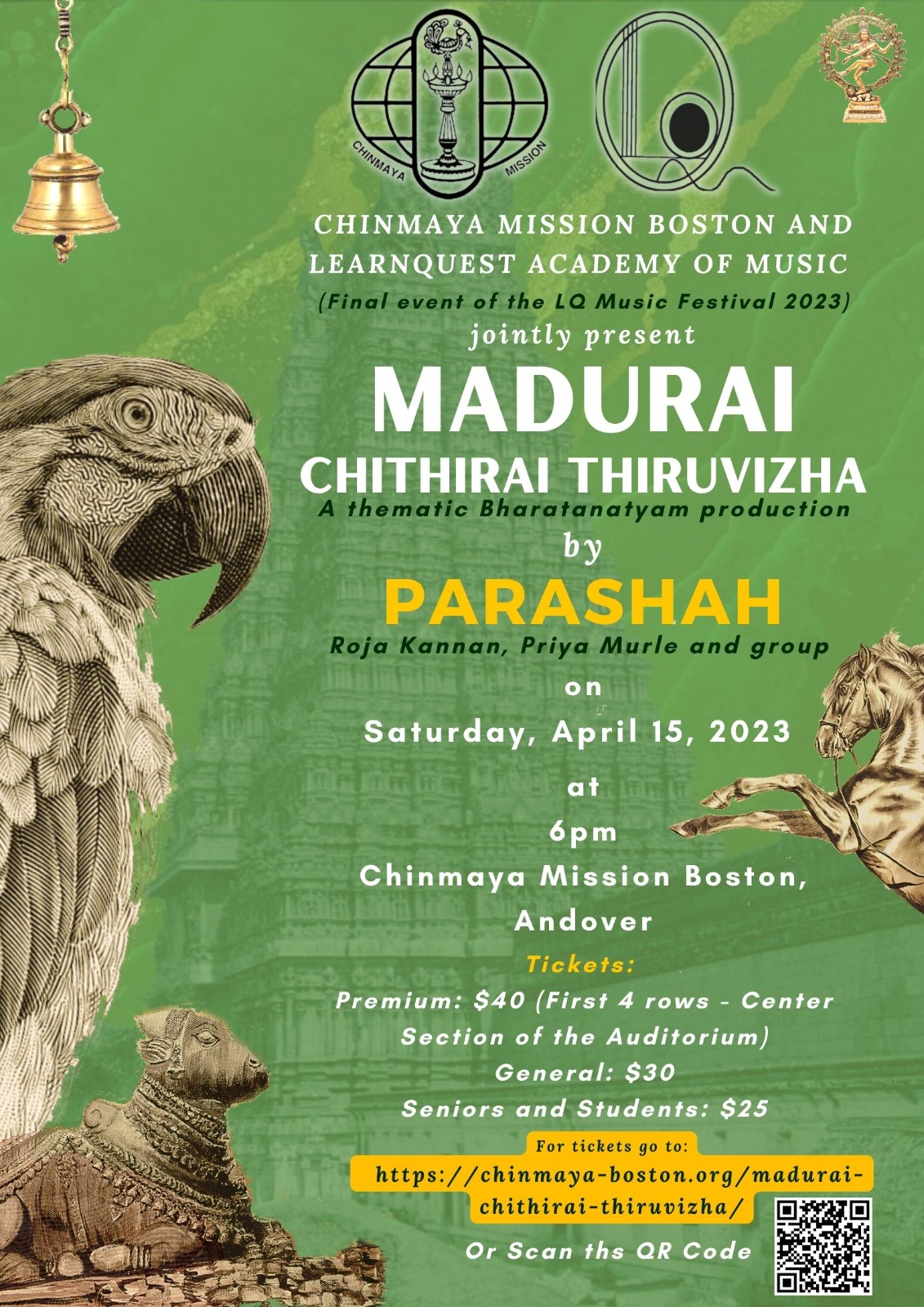 Uthsavams or Temple Festivals are an important part of the Temple calendar. Each temple has its unique way of celebrating its presiding deity. This production, by the Bharatanatyam group PARASHAH (meaning 'alchemists' stone'), comprising senior artists Roja Kannan, Priya Murle, N. Srikanth & Aswathy Srikanth, along with a team of talented dancers, provides a stunning visual treat of the vibrant and colorful temple festival of the South Indian temple town, Madurai. The production brings alive on stage, the day-to-day celebrations at Madurai (read more about the festival below). Encompassing a tremendous amount of research, the production uses lyrics from ancient Tamizh literature texts, beautifully complemented by an original music score set by Nandini Anand.
Different genres of classical and folk dance beautifully merge to depict the festivities, with aesthetic costuming, designed to bring out the flavor of Madurai, props that add authenticity and vibrance, and professionally designed lighting by leading lighting expert Victor Paulraj. Weaving the entire production together is the storyteller, the river Vaigai, on whose banks the festivities take place.
More about the Madurai Chithirai Thiruvizha
The Festival of the presiding deities Goddess Meenakshi & Lord Sundareswarar of the temple at Madurai is known as the most diverse and vibrant festival encompassing a very wide spectrum of devotees irrespective of class, caste, religion and color. The festival runs for a period of 17 days from the day the Flag is hoisted, signaling the beginning of all festivities. The whole city of Madurai gears up eagerly to welcome their favorite Meenakshi & Sundareswarar as they come in a variety of mounts day after day, to give their devotees from far and wide the pleasure of seeing them.
Various legends connected with the temple are enacted on these days, and the grand chariot is pulled around the streets surrounding the temple. Lord Vishnu as Kallazhagar comes down from his abode in the mountains of Thirmaliruncholai to witness the grand wedding celebrations of his sister Meenakshi. However he arrives late and leaves all the gifts and other items he brought for his sister on the banks of the Vaigai river itself and leaves. The Festival is known as one of the longest celebrations in the history of temple festivals.