Chinmaya Mission Boston Seva Group
What is Seva?
Seva is performed as a selfless dedicated service without any thought of reward or repayment. Seva is not merely an act of charity, but it is the very essence of devotion to the Lord. The shastras teach us that we are HIS instrument and every act of life is an act of worship to HIM
Mission Statement
Bringing the principles of Vedanta into practice through service to the community and thereby creating a sense of oneness that promotes our spiritual growth.
Goals
Put the principles of Vedanta into practice by applying it to everyday life and helping people in the local and global community
Help the "doer" develop spiritually by practicing Karma Yoga through Seva
Develop a true sense of community within Chinmaya Mission Boston (CMB) by creating opportunities for members to work together for a common cause
Develop areas of activity that will (over time) allow everyone in CMB to perform Seva
At CMB, we are privileged to have the opportunity to participate in serving the mission and do community service. We welcome all to join us in this noble endeavor.
Serving the mission: Depending on your interests and skills, there are multiple opportunities and various roles to fill in at CMB….great way to make friends, learn new skills and have fun! Every little contribution counts, even a few minutes each week. Please share your information and let us know what you may be interested in.
Teaching, Arts & Craft, Kitchen, Bookstore & Library, Marketing, Writing, Photography, Audio-Visuals, Temple activities, Software development, Facility maintenance, etc.
To volunteer at CMB in the mission or towards community service, reach out to cmbseva
To be a teacher or help with kids activities, please write to: Padmini Narayan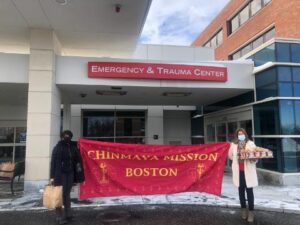 Community Activities
CMB – Project Support Group, click here
Monthly food service for Lowell Pathfinder and Lawrence Daybreak soup kitchens
If you are interested in CMB's community service, please send email to cmbseva
Partnering with various organizations like Chinmaya Organization for Rural Development (CORD) to provide service at community, national and global levels.
CMB Community Service Activities
2020
Through the year, we donated 3,000+ meals, sewed 1,200+ masks, and raised $10,000+ towards homeless shelters and hospitals. Earlier in the year, CMB members of all ages also came together to pack and donate 20,000+ with the outreach organization.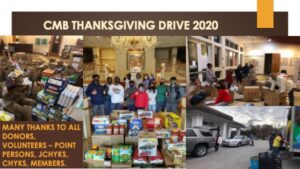 December – May 2021
1000 Cooked Meals were donated to the front line workers at the Lowell General Hospital. Thanks to the physicians and staff for their tireless service during the pandemic.
February-April
JCHKs made sandwich lunches (kits) for the kids in a homeless shelter in Lowell. Kits have been donated every month.
April-June
CMB members volunteered at LGH's Mass vaccination program in Lowell, MA to help deliver 147,617 vaccines. They help with signups, monitoring people or as clinicians. In the award ceremony held last week, LGH awarded a plaque and medals to CMB and all volunteers for their time and effort.
Fund raising for India
In addition, CMB raised $45,000/- which was sent to India to Chinmaya Mission organization to build an oxygen plant, Oxfam, and Sewa International.
We are proud of our members and thank each and every one for their help and support in this tough period!
August
JCHYK Kids helped Red Cross to run a blood donation camp at CMB. We collected 28 units, which translates to saving up to 84 lives!
September – December (GO CMB!)
The 7th graders ran a clothes drive to help the Afghan refugees settling in the area. 40 Blankets and 100 bags worth of combined winter and Indian apparel and backpacks were donated by CMB members.
Packed and canned food was donated towards the Sewa Diwali project and towards Thanksgiving donation to Lazarus house food pantry. In total, 2300+ items (bean cans, pasta, cereal) was donated by CMB members.